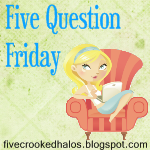 1.
Do you sing karaoke? If so, what is your go to song?

Let's just say that it takes a few drinks and a few friends to get me up on the karaoke stage. I've been known to sing Bon Jovi, Queen (Bohemian Rhapsody of course!) and I once tried Salt n' Pepa and failed miserably. Who knew it would be that hard to read a monitor!?

2. What is your favorite coffee drink?

I love coffee with any kind of chocolate or creamer... though I am trying to cut back. My favorite coffee drinks are loaded with sugar and calories and not exactly the best way to get through a diet.

3. If you could choose your own name, what would it be?

I kind of that my name is Krystal--and I like it even more since it's spelled just a *little* different.

4. Were you ever bullied?

There was this one time in junior high...

5. How often do you eat fast food?

I used to eat it regularly, but I've been cutting back. I do take lunch breaks at work and try to eat "healthy" even if it's a Wendy's. I downloaded the

Eat This, Not That

app for my iPhone and it definitely helps you count your calories--even in thedrive thru!