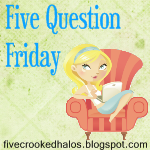 1.
What's your guilty pleasure?
Cheesy pop music. Yes, I still do enjoy *NSync, Britney and I do have the Spice Girls' CD in my car. I just can't help myself.
2.
What is your favorite TV series?
Seinfeld is my all-time favorite TV show. My current favorite shows would be Modern Family, The Middle and Desperate Housewives. I love The Office too, but isn't it losing its luster?
3.
Can you speak any foreign languages?
I took German for three years. Das ist gut. That's all I remember.
4.
How many pairs of shoes do you own?
I probably own about 25. I'm really not that crazy about shoes though I love a good pair of heels. I have great pairs of shoes that I adore and not just a bunch of shoes that are just okay.
5.
What's your favorite kind of M&M's...peanut, almond, straight up regular, etc.?
I love peanut butter M & M's ... but I have forgotten what they taste like. I'm sticking to this diet thankyouverymuch.