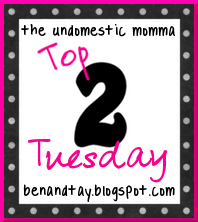 Top 2 Things I Can't Live Without
:
1.
My iPhone.
I never thought I would be one of "those people." As long as cell phones existed, I always had one that barely worked and was the size of a brick. I could barely check my email on my last phone. I had no idea what an amazing world it was out there with a smartphone. I also can spend my days in bed checking email and playing Scrabble. Oh, what a life.
2.
My Vera Bradley tote
. It's filled with everything I need and makes me feel a little bright & cheery at work.