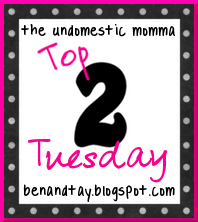 Top 2 Tuesday: This week's topic is pretty neat. I enjoy getting quality things for cheap, so I have *tons* of favorite items that are under $15. My ultimate favorite place to score these things is, of course, Target. Here are my picks:
1. Target's Long & Lean Stretchy tanks. Obsessed. I have about seven of these including this pretty teal, lime, black, white, pink, yellow….They usually are about $7 but if you're *lucky* you can get them for as cheap as $5. That's how I majorly stocked up last time around. :)
2. Target's Mossimo flats. It's getting warmer now so I probably won't wear these as much, but I love and adore them. Here are some that I have:

The Pup: He's a celebrity. No, but really, I noticed this website a few weeks ago and have become addicted to see the "puppy of the day." Today's dog? Yep, it would be mine. Show him some love: http://www.dailypuppy.com/
Changes: New job. Very busy. I suck at commenting. More later. :)
P.S.: My giveaway ends tonight! Lauren Nicole Gifts *ends 4/20
Recipes, Printables, + More!
Grab your free Clean & Organized Ebook when you subscribe. Look for weekly free printables available only to subscribers along with a community and more!
Cook, craft, and celebrate on a budget! I'm a Florida mom, wife, and blogger who wants to inspire you to celebrate the every day. From easy recipes to fruity cocktails, Krystal's Kitsch is a place to enjoy a sweet escape.