This year I split my vacation time up. I took three days off for our recent Florida Keys trip, and I am using the other two days on this fabulous cruise that I'm pacing for right now! I leave tomorrow morning and head to Port Canaveral. From there, we board a Royal Caribbean ship that will take us to the Bahamas! We spend the first day in Nassau (Senor Frogs, you have a yard of booze with my name on it!) and the second day in Coco Cay (apparently their private island?).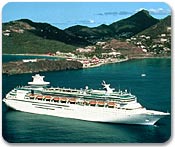 So, it will be a glorious weekend... but I'm not going to lie. I'm going to miss my boy very much. It's something that I would want to share with him, but this trip is for the ladies to celebrate my mom's birthday, a friend that's going to law school and now I have something to celebrate--an engagement! =)
I will be back on Monday to share my photos and silly stories (when we all get together, shenanigans usually ensue!). After this cruise, it's time for a "Get Healthy" diet/exercise plan and wedding planning!