I've posted about my 2011 resolutions
here
and
here
, but I do want to participate in the "11 in '11" link up this month. I'm going to simplify my resolutions for the purpose of this list, but you can read my originals in the previous postings.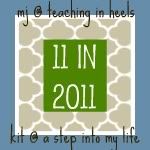 Day 1 -- New Year Resolutions
Graduate

.

Travel

.

Save

.

Exercise

.

Eat Right

.
These are the basic ideas of my plans for the New Year. I do not even call them "resolutions," these are not things I'm going to resolve to do. They are simply things that I
will
do.
Graduate
-- I need one class that I can take in either the summer or fall of 2011. Then, it's cap and gown time
Travel
-- We have plans for a cruise on our honeymoon and a summer trip to the Florida Keys. It would be nice to throw in a few weekend trips and maybe a winter Washington, D.C. trip.
Save
-- I'm hoping to get our savings started this year after the wedding. It will be much easier after we are married!
Exercise
-- Again, something I will do. I might have fallen off the wagon in the past two months, but it's not hard for me to grab my weights and get going again. I have lost my focus since I've been so busy lately, but that's just another excuse.
Eat Right
-- I do a pretty good job at avoiding processed foods at lunch time and preparing my meals at home ahead of time. When I was enrolled in boot camp, they gave us an excellent meal plan that was tasty and nutritious! I'm addicted to making my own rice bowls that I even bought a rice cooker this week to always have cooked and warm brown rice at all times.
Edited to include the rice bowl recipe my former trainer gave me:
Rice Bowl
1 Chicken Breast (6oz) OR 98% Lean Ground Beef (6oz) OR Salmon or Tuna (6oz.)
½ Cup Brown Long Grain Basmati Rice OR 1 Red Potato (6oz)
1 Tbs. Virgin Olive Oil OR ½ Avocado OR 1 Tbs. Smart Balance Butter
(All You Can Eat Extras) Veggies, Black Pepper, Balsamic Vinegar and Salsa
When I write out my plans in bullet notes, everything seems a bit more manageable. Happy New Year!