I was waiting anxiously for
Zoya
to announce their Facebook code for *three free bottles* of nail polish! When they reached 20,000 fans on Facebook, they were giving *everyone* a code for three bottles -- just pay shipping! So, for $6.95, I present to you my three colors. Very excited for them arrive! (P.S., they have SO many colors, it was *so* hard to pick!)
Ibiza
Freja
Anastasia
I have so many bright pinks and reds that I wanted some colors that I don't have. I think this is a good mix. This deal is going on til Friday I believe, so there's still time to order (though, when I tried to get the colors for this post, their site was down! Google images to the rescue...).
*
IPhone
. I'm on it all the time. I've cracked the screen, dropped it, gotten it wet, sat on it, etc. It's lasted the test of time (though, my alarms didn't work for two days! Grr! It's normal again, thankfully!).
*
Car
! Finally I swapped a crappy Dodge Neon with no air conditioning to a more suitable ride.
Don't hate on my pseudo-station wagon! It's a fun car for the puppies to get in the back!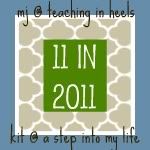 Best Leftover Recipe


This one is hard. I googled "what to do with leftover chicken?" and got this. It looks yum-o.

Slow-cooked Southwestern Chicken
1 – 1 ½ c. chicken (OK if it's frozen as it will thaw as it cooks)
1 jar salsa (mild or hot to suit you)
1 can corn
1 can black beans (rinsed)
grated cheddar cheese
Coat crockpot with cooking spray. Add in chicken, salsa, corn & beans. Cook on low for 2 hours or until heated thoroughly. Top with cheese and serve.

Suggestions: Serve over rice or as a baked potato topping. Great as a filling for tacos or burritos.