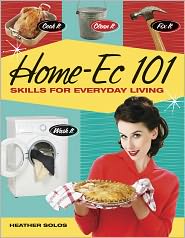 It's not any secret that I'm not exactly the most organized person. Oh… I try, but I still need a lot of work. I think this new book, Home-Ec 101, will certainly point me in the right direction. First off, it just looks cute! I love reading about home repair, DIY projects, and just general domestic stuff. I don't exactly follow what I read…but one day!
The author, Heather Solos, has her own blog at Home-Ec 101 where she shares her witty domestic secrets. Home Ec 101 is divided into 4 easy to navigate sections which include Clean It, Fix It, Wash It, and Cook It. Readers can look forward to finding great ideas, useful tips, and a fresh way of looking at everyday living.
You can find this book on Amazon or Barnes & Noble. I can't wait to finish it!