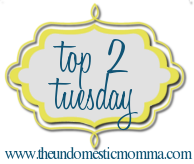 1. I am a Coke Zero and Cherry Coke Zero fiend. It's an addiction but I'm limiting myself to two (or three!) a day. That's a serious cut back from before!
And, yes, it's better in a can! :)
2. As far as alcohol goes, my favorite wine is Strawberry Riesling by Keel & Curley winery.
Though, I'll try and drink just about anything. Sangria is a favorite and I love a good mimosa.
My favorite drink out is the Strawberry Fizz martini at Bar Louie. It's AMAZING. It's Stoli Strasberi Vodka, Dekuyper Razzmatazz, Strawberry Puree, Champagne float & Garnished w/strawberry.
The one on the right. Obviously!

I also have a love for Strawberry Champagne Sangria at Cheap in South Tampa.
Something I've been making a lot of at home are cocktails with the Diet Pink Grapefruit Soda Stream mix. I've been mixing it with Cotton Candy Pinnacle Vodka or the Tropical Punch flavor. Both are tasty!
*If you don't have a Soda Stream, get one! Or, add it to your wedding registry. It's a neat thing to have handy in your bar! I never have to buy mixers for drinks. I always make something!