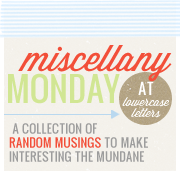 My Miscellany Monday in the form of goals for this month:
*I
will
finish my wedding recaps before June 12th. I
must
. I want you to see my wedding through "my" eyes before you see it through someone elses. I started today and I have a post already scheduled for tomorrow. Check it out! Also, you should visit my blog anyways. I got a redesign a few weeks ago and never officially announced it. It's pretty snazzy.
*I
will
finish two books by May 14th and four by the end of the month. Up first is Whiter Shades of Pale followed by The Pioneer Woman's Black Heels to Tractor Wheels.
The reason for the deadline? The library has rules, dontcha know. I got a library card this weekend. Why haven't I taken advantage of this resource before?
*I
will
save some money.
*I
will
clean and organize the office.
*I
will
get ready to graduate with my Master's this August.
*I
will
continue to look for jobby jobs...and maybe actually get one?
*P.S. The
Undomestic Chica
has a pretty fabulous giveaway going on.
and.... I'm
five
followers away from 500! When I reach 500 I'll be sure to host a giveaway of my own. :)