I started the day off in a good mood. I mean, it is Friday after all. Pay Day. I had a lovely evening out with good drinks and conversation. I drank pineapple wine when I got home (it smelled terrible but tasted pretty yum!).
However, once lunch was over... my mood turned for the worst quickly. I'm not sure why. I don't have any real reason to complain. Things seem to be going well. Wedding stuff is coming together -- finally -- and I'm very excited for the honeymoon! =) It's just a blah day. At least I can look forward to...
Our last pre-martial counseling session tonight (which means we can apply for our license now! Woo!)
Eating a nice dinner out tonight
Partying like a pirate tomorrow (read about the magical holiday that is Gasparilla here)
Having my fiance' off on a SUNDAY! (This hasn't happened since football season began, he has a weird schedule)
Finalizing details with both the photographers and planner next week
And... realizing it's about three weeks away....
I kid, I kid. I'm feeling prepared, ready, excited, and pretty much thrilled to be a Mrs. very soon.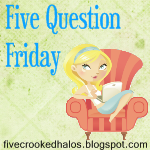 1.
If you had $1,000 to donate to a charity, which would you choose?
I'd probably spread it out between a few organizations.
2.
Snow days: Do you welcome them happily or are they a pain in your butt?
Um... what's a snow day? We get hurricane days down here and even those are rare.
3.
What talent did you wish you had and why?
I wish I was a better writer (and had the determination to follow through).
4.
Are you a news, politics or celebrity gossip junkie?
All of the above. I stalk local news websites (we have some crazies in Florida, it's pretty entertaining), I read political things often (though I admit I get most of my news from Jon Stewart), and I love reading celebrity gossip -- especially when it's about Jersey Shore. I love to hate them. Or, I hate that I love them. Whatever. =)
5.
What is your favorite "cocktail"?
I love Bacardi Dragonberry and Sprite, but I drink everything. Just no tequila. Me and Pepe Lopez are no longer friends.