An extra post for today. I drafted this up at work and didn't want it to go to waste. ;)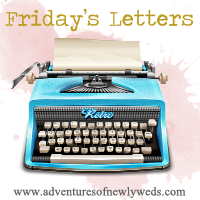 Dear
Teachers
, You make me so jealous with your summer vacations and to do lists. Where were you all when I was 18 and deciding on a major? Why didn't anyone tell me HOW AWESOME IT WILL BE TO NOT WORK in the summer? Especially when you become a Mom?!
Dear
Payday
, Thank the heavens. Unfortunately you are probably already spent but whatever.
Dear
Amazon Prime
, I hope you are amazing as everyone claims you are. I just signed up and placed my first order -- partly paid with a gift card I won online. Word.
Dear
Chick Fil A
, You are so delicious but SO FAR AWAY from my home. I have to leave for work like thirty minutes earlier just to indulge.
Dear
Target
, I hope you're ready for me. I have a Shopping List that's a mile long.
Dear
Dunkin' Donuts
, I passed my glucose tolerance test. We do not have to break up! Win.
Dear
Spinach
, I really should have eaten you more often. I'm "a little" bit anemic. Looks like they're putting my on some prescription iron pills!
Dear
Weekend
, I am so looking forward to not having any solid plans this go round.
Dear
Husband
, Even though I don't want to do much but lie low this weekend...I still want to at least cook for you on Sunday. Daddy to Be Day! ;)
&
Dear
Cannon
[ Baby to be in case you are new around these parts! ;) ], You are quite the mover and shaker! Sometimes you take my breath away when you move. It is still hard to believe that you're IN there. I've seen the proof (and obviously felt it)... but sometimes I'm like... "Really? Is there a baby coming soon?" It is hard to process! We love you already and it's scary to think you could be making your arrival in ten weeks.
Oh, and P.S. Dear
Erin Condren
, I will NOT be sucked in again. My life planner sits mostly unused so I will NOT be pre-ordering my 2013 copy. Yes, you added laminated tabs. Oh, and you threw in some colorful pens. But considering my 2012 edition is basically just a file folder for my bills... I'm not getting the new one. I did, however, buy a Take Note Notebook and threw in the calendar pages. Ya know, just in case I decide to document/take notes/get organized. ;)