Cannon is officially a one year old. It happened so fast. As we enter autumn, I remember last year and how crazy September was. I was let go from a position (after returning to work with almost zero maternity leave), and that led to a downward spiral for a few weeks. We are in a much better place now (literally, our house is much better), and I work in an industry that I enjoy. Cannon is also at a very fun age! It's nice to not have those late night feedings and having him in a daycare that I like is good for everyone.
Since Cannon is one, here is his last monthly update. Perhaps I'll do another one at 18 months or two years, but for now, this is it.
Likes
: Veggie straws, throwing his sippy cup, my iPhone, playing in the kitchen (especially the fridge), swimming, playing outside in his boat, swings, books, splashing water, and rubber duckies.
Dislikes
: Bedtime, wearing pajamas, getting into his car seat, long grocery trips.
Sleeping
: Getting him into pajamas is a chore. He is SO active. Also, now that he is growing all the pajamas sets are tight by design...so tough to wrangle him in them. He sleeps from about 7:30pm/8:30pm until the morning. Some mornings are early (and rough) at about 6am. Other times I find him babbling to himself at 7:30am. It just depends on the day.
Clothing
: Now that he is older, I love dressing him in tees and shorts.
He talks all the time now. He says a variety of words (or at least, I think he is saying them) including "dad," "mom," "hi," and he tries to copy what we say. Scott is convinced he said "seriously" (I think he was just babbling four syllables), and my mom heard him say "grandma." Allegedly. I haven't heard those words. ;)
Do you have a "day in the life" post to share? Link up!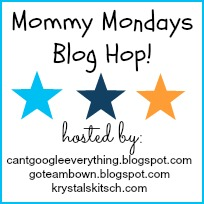 This Month's Glitz Sponsor: